NEWS

ニュース
【TeamAyu】Exclusive for TeamAyu members! Sign up for AWA, and receive an original sticker present!
2019/06/29

Limited to the 6/30 Karuttsu Kawasaki performance!

AWA members will be able to receive an original sticker present by showing their registration screen to the AWA campaign staff next to the fan club base.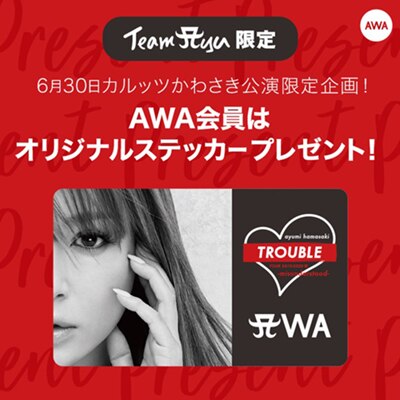 Ask the staff for more details on the process of showing the screen!

*Targeted towards people registered for the AWA Ayumi Hamasaki official plan, as well as the Standard plan.
*At the venue, being registered for either of the above AWA plans qualifies you, but we are predicting a large crowd, so we recommend registering in advance.

▼Register below
ayumi hamasaki official plan:
https://mf.awa.fm/artayumihamasaki

[Precautions]
*Only one per person.
*Limited quantity available.