A real pineapple pen!? The world's first "PPAP CAFÉ" will open for a limited time starting November 1!
2016/10/26
An official café for the super popular "PPAP" will be opened for the first time anywhere in the world at the "TV Station Official Shop - Tree Village" located in Tokyo's Skytree Town®!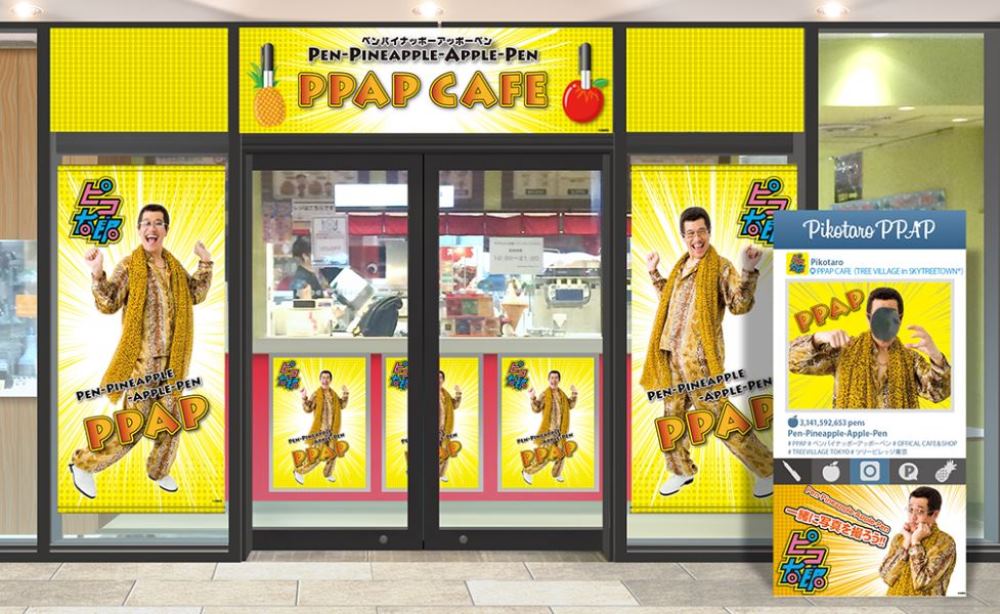 This café features menu items all named in a manner similar to the now familiar phrase "PPAP"!
The café offers a variety of treats that use plenty of pen, pineapple and apple that are only available here, including the
PPAPan
sandwich, PPAParfait, PPAPancakes, PPAPeach soda, PPATeaPPA, and PPAP fresh juice using an entire pineapple!
In order to further spread the PPAP craze, each order of 1 item also comes with a "Special PPAP Coaster" present!
Take one home as a souvenir from the café♪

The café interior also features panels with Pikotaro's face to use as photo spots, as well as a goods corner which is planned to feature a wide selection of PPAP goods!
Why not come and have the real apple pen, pineapple pen experience yourself at the world's one and only "PPAP CAFÉ"!?
Period: November 1, 2016 to November 20, 2016 (Planned)
See the Tree Village official Twitter account (@treevillage_jp) or contact the store for details.
http://tree-village.jp/
■Menu
*All prices include tax.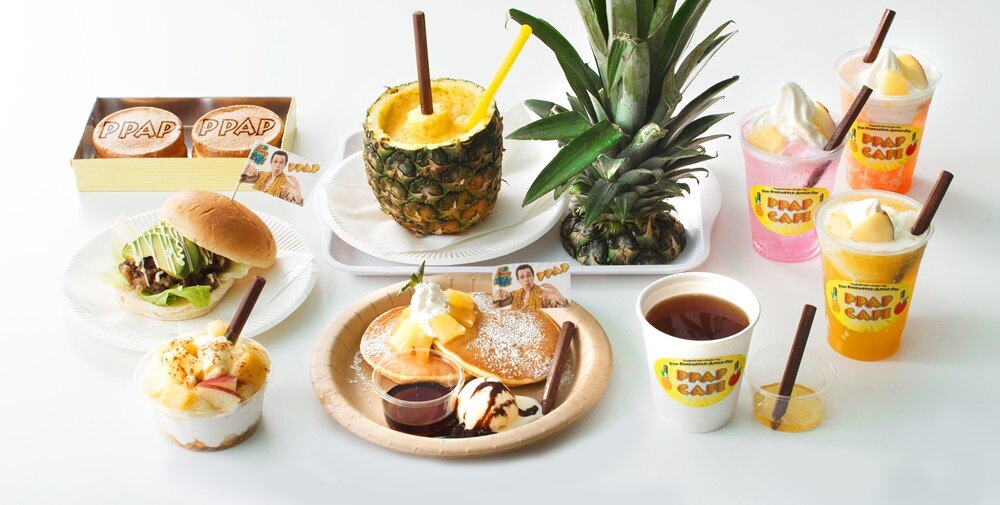 ・PPAP Fresh Juice (Pen Pineapple Apple Pineapple) ¥878
・PPAP Drink (Pen Pineapple Apple Peach Soda) ¥520
・PPAP Drink (Pen Pineapple Apple Passion Fruit ¥520
・PPAP Drink (Pen Pineapple Apple Pink Grapefruit) ¥520
・PPATea Romita Hashimikov Flavor (Pen Apple Pineapple Tea) ¥420
・PPAPan Sandwich (Pan (bread) Bulgogi (Korean grilled beef) Avocado Bread) ¥700
・PPAParfait (Pen Pineapple Apple Parfait) ¥600
・PPAPancakes (Pen Pineapple Apple Pancakes) ¥700
・Japanese PPAPancakes (Pancake Pineapple Apple Pancake) ¥480
Receive a random special PPAP coaster present with each purchase! (5 types total)
*This shop is mainly for takeout so advance reservations are not accepted.
(There are a small number of free spaces around the shop where customers can sit and eat)
Come and visit.
[TV Station Official Shop - Tree Village]
4F TOKYO SKYTREE TOWN, Soramachi
1-1-2 Oshiage, Sumida-ku, Tokyo, 131-0045
TEL: 03-5610-3181
9:00-21:00 (Eating area 10:00-21:00)
http://tree-village.jp/