2017
GourNavi "AAA Only Now Limited Campaign" will start for 2 September (Sat.)
GourNavi "AAA Only Now Limited Campaign" will start for 2 September (Sat.)
http://present.gnavi.co.jp/campaign_site/aaa2/?sc_cid=vpl_aaa2170901_1

Reservation period: 1 September (Fri.) ~ 31 October (Tues.)

Period of champaign:

[Aich area]
2 September (Sat.) = 31 October (Mon.)

[Other areas (Kanto/Osaka/Miyagi]
4 September (Mon.) ~ 31 October (Mon.)

Participant store numbers: 59 GourNavi member restaurants
※ Written at the bottom

Application method:
Those who has the above URL campaign exclusive internet booking with more than 2 persons

Premium content:
Present for all to come: "No Way Back" postcard

Lottery premium at your visit: Each who give you your preferable color gift by lottery (for one person who won it ) ,"Eh- Panda" stuffed toy.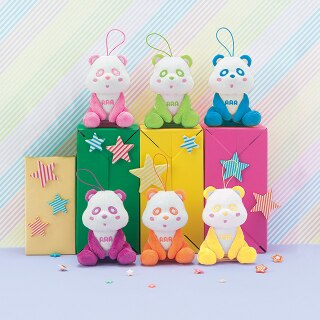 [Shops implementing]
■ Kanto/Osaka/Miyagi areas
Northern Japan tasting travel and Hokkaido's local sake at Ikebukuro Sunshine
Streeto shop
Northern Japan tasting travel and Hokkaido's local sake at Shinjuku Meiji Street shop

Gotaro Umeda HEP Street shop
Gotaro Shinjuku Kabuki cho shop
Gotaro Ikebukuro 60th Floor street shop
Gotaro Shibuya Dogenzaka shop
Gotaro Yokohama Nanko shop
Izakaya ◎Nijyu-Maru Shinjuku Isetanmae shop
Izakaya ◎Nijyu-Maru Ikebukuro 60 Kai Tori shop
Izakaya ◎NIjyu-Maru Shibuya Metro Miyashita Koen Mae shop
Izakaya ◎Nijyu-Maru Seibu Shinjiku Ekimae shop
Izakaya ◎Nijyu-Maru Ikihabara shop

Foodiun Bar Isa Shinjuku NS building shop
Foodiun Bar Isa Shinjuku Aqua city Odaiba shop
Foodiun Bar Isa Yokohama shop
Foodiun Bar Isa Ichigo Shin-Yokohama Arena Street Building shop
Foodiun Bar Isa Ikebukuro Sunshine Street shop
WOLFGANG・PUCK Express Harajuku Takeshita dori store
WOLFGANG・PUCK Express Ikebukuro store

Maimon Sakaba Ekohiiki Ikebukuro Tokyu Hands mae store
GIOVANNI'SCAFE&DINERKICHIJYOJI
A private room!
Yakitori Izakaya Shinchan Nishi Gotanda store

Tohoku Michinoeki Sendai Ekimae store
Tohoku Michinoeki Kokubun-cho store
Tohoku Michinoeki Dateya

GIOVANNI'Scafe&Diner Sendai GIOVANNI's
StaylishBarFIORE
ULIULICafe&Dining
Kakurega Bar SALUTE
*At the restaurant below, a prize may be sent to people with the winning ticket at a later date.
↓
Aichi area (start from September 2nd)
Hanba Honten
Hiroshima Style Okonomiyaki Teppan cuisine Gansu
Sichuan cuisine CHINA 5°
Daihachi Hanbamaru
Nagoya Daisakaba Daruma
Kaburaya
Ginza Ashibe
Nagoya Daisakaba kaburaya Sohonke
Aged beef tongue with Charcoal-grilled Bekotan Kariya Honten
Aged Grilled meet Hachiokuen
A private room!
Yakitori Izakaya Shin-chan Kanayama Ekimae Store

A private room! Yakitori Izakaya Shin chan Meieki shop
A private room! Yakitori Izakaya Shin chan Kanayama Minami shop
A private room! Yakitori Izakaya Shin chan Sakae Sumiyoshi shop
A private room! Gather together! Yakitori Izakaya Shin chan Meieki Cyuo shop
A private room! Yakitori Izakaya Shin chan Meieki Nishiguchi shop
A private room! Yakitori Izakaya Shin chan Kanayama cyuo shop
A private room! Yakitori Izakaya Shin chan Ekinishi 21 building shop
A private room! Yakitori Izakaya Shin chan Shinkansen guchi shop
A private room! Yakitori Izakaya Shin chan Hisaya Odori shop